Wireless Sensors identify breakage of Sandvik CH660 crusher
January 18, 2022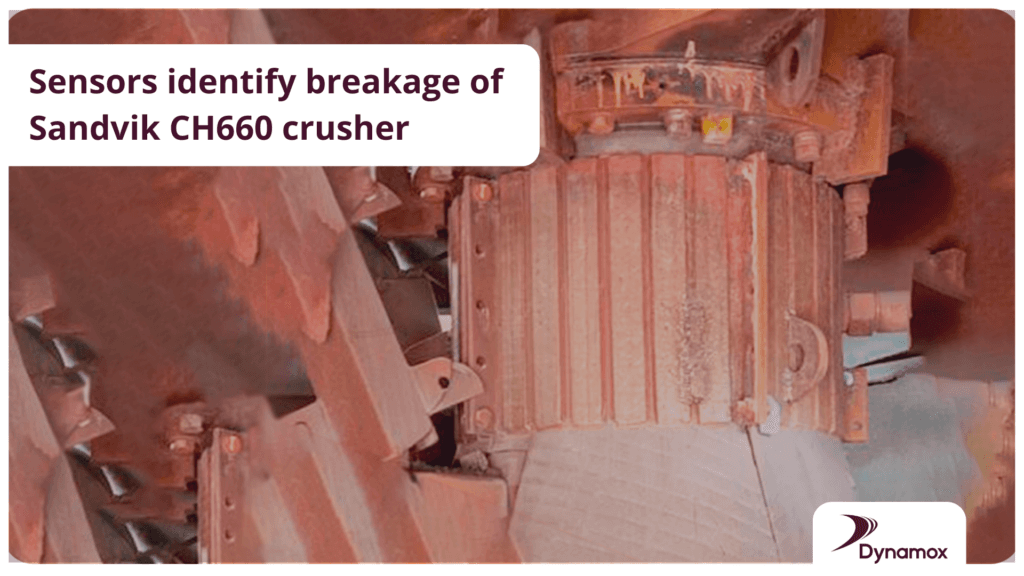 Wireless Sensors can help. Crushers are complex pieces of equipment to monitor because of their high vibration and they often malfunction.
Some recurrent causes of problems can be identified as lack of proper lubrication or that wear parts are deteriorating too much, requiring replacement.
Knowing this, and also trying to anticipate the failure that caused the Sandvik CH 660 crusher's crankcase cover bolts to break, the predictive maintenance team at Vale's Conceição Mine chose to use wireless sensors to monitor the evolution and levels of dynamic conditions of the equipment through analysis and failure prognosis using the DynaPredict Web Solution.
The equipment
Crushers are machines used to reduce the size of rock and stones in aggregate production, building material recycling applications and mining operations.
Sandvik CH 660 crusher is a cone-shaped equipment, which is responsible for high capacity secondary, high reduction tertiary or pebble crushing application.
During the crushing process, the vibration of the equipment generates a strain on the casing (metal container that protects and ensures the lubrication of certain mechanisms), leading to breakage of screws and cover fixing, resulting in the fall of the component, generating an unscheduled stoppage in the asset.
Monitoring system and failure prognosis
The preventive measures taken were the installation of wireless sensors at the breaking points and thus follow the evolution of these vibration levels.
The dynaloggers sensors used were the TcA+ and AS models, ideal for monitoring the vibration conditions of the assembly in the axial position.
In the trend graph generated after the installation of the sensors, it was observed that in some months there was no type of occurrence, maintaining stability in the vibration values monitored.
The trend graph generated with the defined alarm levels, based on two failure occurrences, identified the vibration behavior (in RMS velocity), allowing the creation of alarm levels, indicating that the bolts are over-stressed, loose, or broken.
From there it had a way to predict a third crankcase failure and anticipate the problem.
Application Results
In the field, the inspector was able to visually verify the breakage of two retaining screws of the crankcase cover and replace them before another fall of the component, as shown in the picture below:
Given the success of the application and the proof of the effectiveness of the DynaPredict monitoring system, in the early detection of failures, the Conceição Mine maintenance team decided to extend the application to the other crushers in its unit.
Download the brochure and get to know the Dynamox products available for the online sensing of assets in your industry.
Source: Vale