Explosive Atmospheres: Dynamox receives AEX certification
August 13, 2020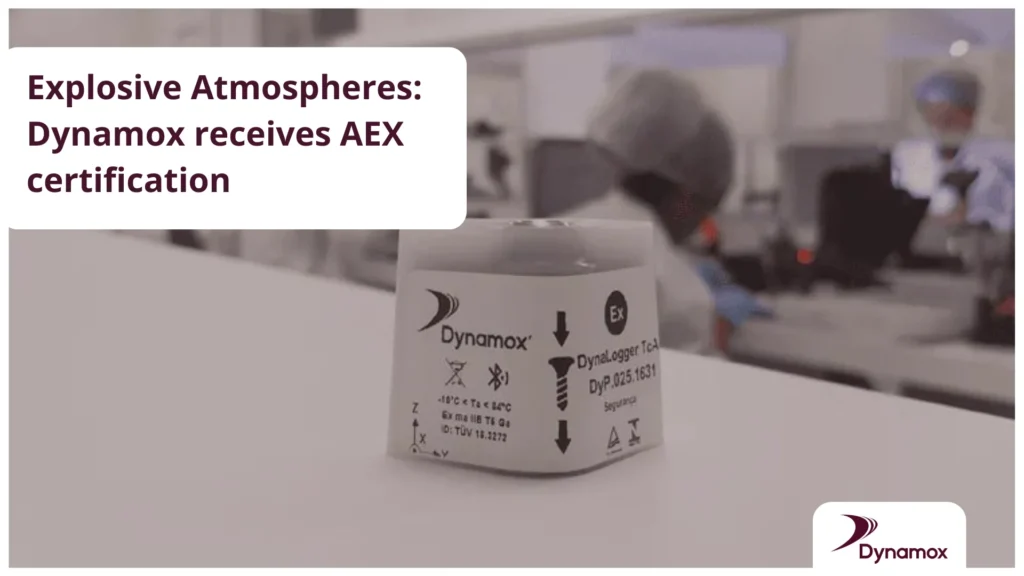 Continuous vibration monitoring solution now also for hazardous areas.
Dynamox starts 2019 with an achievement to be proud of. The DynaPredict, our main product, a data logger with acceleration and temperature sensors, has just received AEX zone 0 certification. Equipment certified for Zone 0, is also certified for Zones 1 and 2.
Understand what the certification represents and why it is a big step in Dynamox's relationship with its customers.
AEX Marking
AEX (Explosive Atmospheres) is a regulation that tests and classifies devices intended for use in explosion hazard zones.
Every product certified for use in explosive areas must be identified on its indelible label, with the symbols that evidence its applicability. Example:
DynaPredict Solution:
"Ex" – Identifies the product certified for use in explosion area.
"ma": refers to the encapsulation, equipment with "very high" protection level for Group I.
"IIB": equipment applicable in areas of group IB and IIB (gases and vapors).
"T6": equipment that presents the lowest surface temperature index (84°C).
"Ga": equipment with "very high" protection level for Group II (gases).
"IP66": equipment with waterproofing level 66, according to the table (Protected against dust and very strong water jets).
Currently in process of obtaining certification for IP68.
WHAT ARE EXPLOSIVE ATMOSPHERES?
Standard ABNT NBR IEC 60079-0/2013 defines as explosive atmospheres:
"Mixture with air, under atmospheric conditions, of flammable substances in the form of gas, vapor, dust, fibers, or suspended fuels which, after ignition, allow self-sustaining propagation."
An explosive atmosphere is considered a "hazardous area" when the conditions for self-sustaining propagation are present in sufficient quantities to initiate and sustain explosive combustion.
These classified spaces require a series of specific and specialized care in the application of electrical equipment and or its accessories of various natures, all with some possibility of acting as a source of ignition.
Note that the spark is not indispensable to produce explosion, which can be achieved by surface heating, if it reaches the gas ignition temperature, or dust.
Therefore, knowing the ignition temperature (lowest temperature capable of causing local combustion) is of utmost importance for the application of the ex certified equipment.
For an explosion to occur, a combination of three elements is required:
Ignition source: which can be electrical sparks or thermal effect (very high temperatures);
Combustant: which in this case is oxygen (since air is composed of oxygen, then this element is present everywhere);
Flammable or combustible substance: gas, vapor, combustible dust, and combustible fiber.
Classified areas are found in various industrial sectors, such as oil and gas, petrochemical, sugar and ethanol, grain processing and handling, and others.
MORE SAFETY FOR THE ENTIRE OPERATION
With the achievement of AEX certification, the DynaPredict Solution expands its scope of action.
With it, Dynamox helps provide even more safety for your machinery and employees.
The certificate of conformity attests that the DynaPredict Solution is fully safe to be applied in environments with flammable Group I and II mixtures exclusively.
Thus ensuring that the vibration and temperature meter will not be the focus of a fire in the areas to which it applies.
This means that the sensor, or data logger, has no ignition source, or that it does not emit substances that could cause an explosion through leakage, sparks, or even high temperature.