Dynamox sensors receive Inmetro certification
March 8, 2021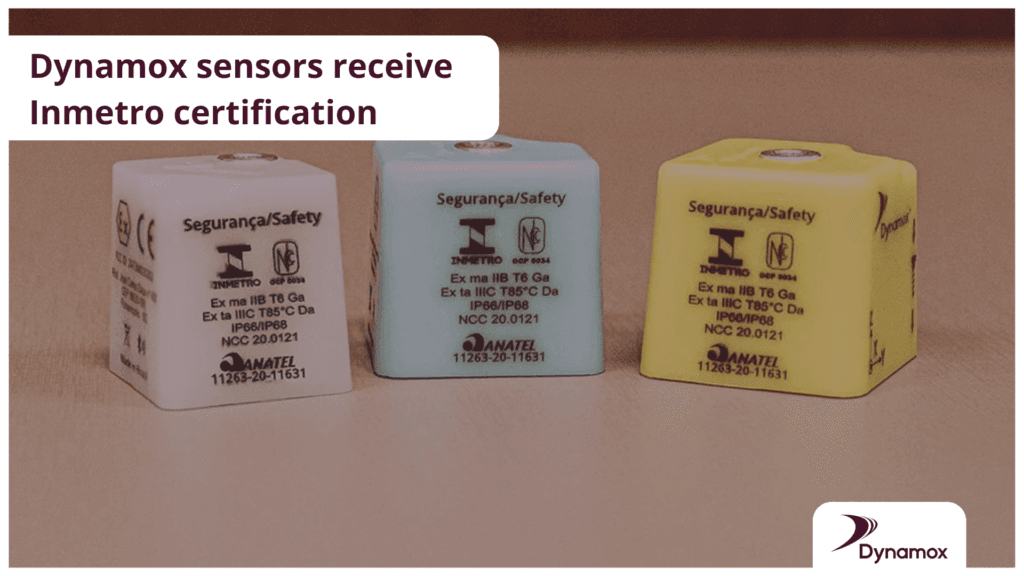 This is the second certification for explosive atmospheres earned by Dynamox: the first, in 2019, was for gases and vapors, in Zone 0, and now dust, in Zone 20.
The sensors, DynaLoggers TcA+, HF, and AS, are certified by Inmetro to operate in dusty environments in classified zones.
It has been proven through tests that the vibration and temperature sensors can work with up to 200 mm of dust layer.
Industries in mining, grain production, and other sectors that generate large amounts of dust can monitor their equipment with the DynaLoggers with total assurance of safety.
In 2019, the wireless sensors were tested in gas and vapor environments and received certification of compliance attesting that they are safe for application in environments with IIB Group flammable mixtures, including Zone 0 (continuous exposure to the flammable mixture).
The three sensor models also present IP66 Degree of Protection, which certifies that the equipment is resistant to dust and strong water jets, and IP68, with protection test withstanding a water column of 2 meters.
"The conquest of one more certification guarantees our clients even more security and confidence in the quality of our products. We are constantly seeking innovation of our solutions and adaptation to the security standards in force in Brazil and in all countries to which we export our hardware. We are happy with this achievement," says Guillaume Barrault, CEO of Dynamox.
The sensor cases are made of Lexan®, a polycarbonate with high resistance to impact and high temperatures, the DynaLoggers have a fully resin electronic seal.
Even with high performance and security, the sensors weigh between 46 and 67 grams, have innovative design and high durability.
Ex Certification
The Certifications were issued according to the requirements of conformity assessment of electrical equipment for explosive atmospheres, described in Inmetro's Ordinance No. 179, of May 18, 2010, No. 270, of June 21, 2011, and No. 89, of February 23, 2012.
DynaLoggers feature two safety markings referring to certifications:
Dust Certificate
Gases and Vapors Certification
IP Protection
The International Electrotechnical Commission (IEC) has defined a norm with an international standard that concerns the level of protection of electronic devices against liquids and solids, such as water and dust particles.
In Brazil, it is regulated by the ABNT NBR IEC 60529 Norm, Protection Degrees Provided by Enclosures, which follows standards identical to the international ones. The DynaLoggers have two protection levels IP66 and IP68.
IP66
IP: International Protection Code
6: Fully protected against dust
6: Protection against powerful water jets
IP 68
IP: International Protection Code
6: Fully protected against dust
8: Protection against continuous immersion (2 meters water column)
In the certification processes, Dynamox counts with the partnership of NCC Certifications, which is the OCP (Product Certification Organization) that represents the company before the national regulatory agencies.
The new sensors already arrive to customers with the acronyms of the certifications achieved evidenced on one side, a security guarantee that is explicit to all who come into contact with the product.
Learn more about the DynaPredict Solution and how it can support predictive maintenance in explosive atmospheres.