Monitoring and Asset life of the HP 400 crusher
November 11, 2021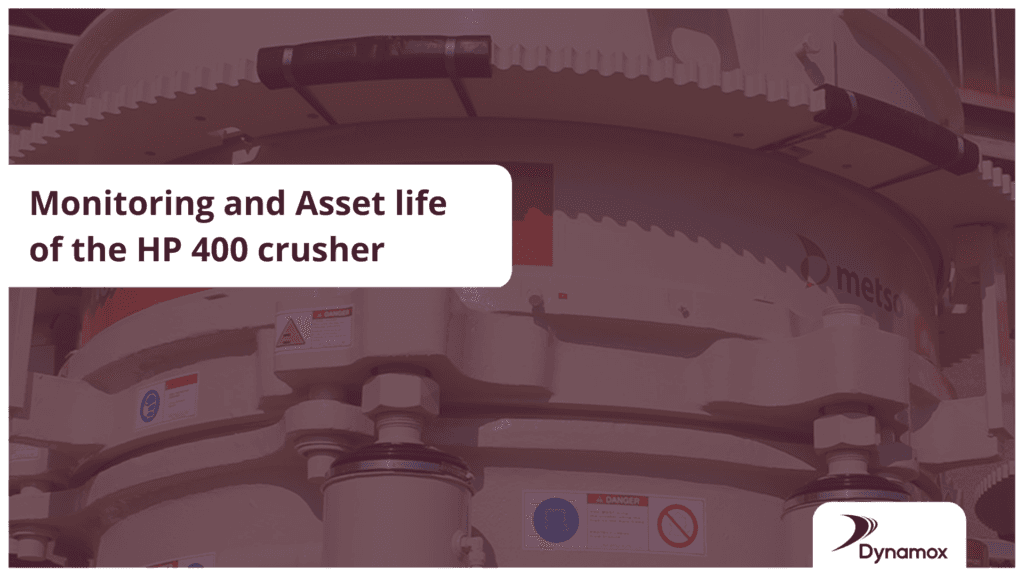 The HP 400 crusher at Vale's Conceição Mine had been presenting frequent bushing failures.
After mapping, eccentric bushing burning and adjustment ring failures were identified, interfering directly in the equipment's operation, causing unscheduled downtime.
Used to reduce the size of rocks and stones in the production of aggregates in mining operations, cone crusher models, such as the HP 400, are used in secondary, tertiary, and quaternary crushing stages.
This type of equipment has an oscillating shaft assembly, between an external fixed element (liner in the reservoir) and internal mobile element (mantle), where the material is crushed in a cavity.
Rotated by a gear mechanism and a pinion, the eccentric shaft performs oscillatory motion of the main shaft, and this eccentricity causes the cone head to oscillate.
The main shaft passes through the eccentric and is coupled by means of the eccentric bushing and the lower head bushing.
Both serve as sacrificial (wear) elements and must be replaced periodically.
Identified Anomaly
After mapping the Conceição crusher, the eccentric bushing burning was identified.
This failure is common in crushers and has several factors, such as:
Use of incorrect lubricating oil;
Problem in the lubrication system (pump);
Use of incorrect or pirated coating profile;
Equipment with too closed regulation;
Decentralized or segregated feed;
Excessive fine material in the feed;
Incorrect rotation.
In this case, the aggravating factor was that the setting was too tight, causing a "ring beating" in the vibrator.
This wrong setting ring movement happened due to the slack generated by the eccentric bushing wear, impacting the crusher's operation, decreasing its useful life and warranty.
Monitoring with Dynamox's Technology
With technical support from Dynamox, wireless sensors (Dynaloggers) were installed in the crusher's housing, near the mantle where the crushing occurs.
This procedure allowed the monitoring of vibration levels in the speed parameter, enabling the visualization of the evolution in the eccentric bushing wear, through the curve of the trend graph generated in the failures dashboard.
Taking the collection values as a basis, the alarm levels were created as a reference for evaluating the wear of the bushing during the crusher's work.
From this, it was evident from the developments in the trend that there was a need for regulating the adjustment ring.
The success obtained in the test with the installed sensors made it possible to follow the wear and extend the life of the bushing, maintaining production and extending the maintenance time to change parts due to wear, increasing the asset's availability time.
Due to the efficiency of the process, the monitoring of wear bushings using Dynamox's sensors has been extended to the other crushers in the plant.
Check out the material and learn more details about the application of our monitoring technology in crushers.
Source: Vale