6 skills that every maintenance manager must have
August 19, 2020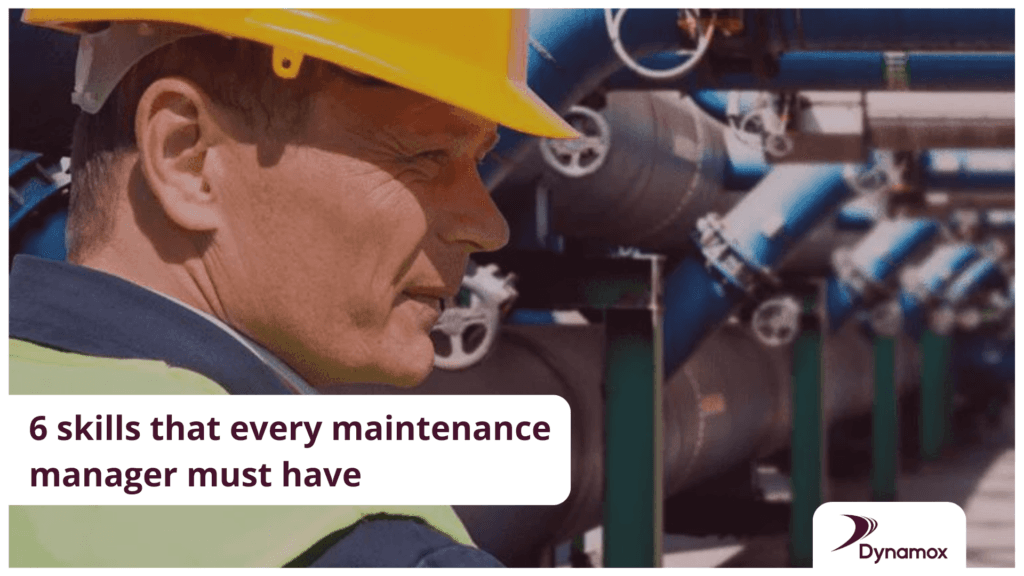 To achieve the position of maintenance manager, coordinator or supervisor, several technical skills must have been validated.
Knowledge of the equipment in use, understanding maintenance processes and techniques, the principles of asset management, best practices on the shop floor and risk management, among others.
These, however, do not define the interpersonal skills needed to deal with people under the responsibility of this manager.
The people are the ones who need to deliver the results, hence the importance of competent and prepared leadership. Among the various skills needed for being a good manager, six were selected below.
If these skills are not developed today, remember that you can always perfect yourself. In the book Mindset: The New Psychology of Success, American author Carol Dweck presents the work of years of research on how our beliefs about our abilities influence how we learn and the choices we make.
Her research proves that basically a person can learn what they set out to learn. It is an invitation for anyone to always learn and perfect themselves.
1.EXCELLENT INTERPERSONAL SKILLS
Interpersonal skills translate into the ability to relate well to others and generate positive results through them. An essential condition for this is the ability to communicate clearly and objectively with both internal and external customers. Maintenance managers need to negotiate daily with subordinates, their managers and directors, with suppliers, third parties, and machine operators. That's why you need excellent interpersonal skills.
In addition to the ability to communicate clearly and objectivity, it is extremely important to listen to what others have to say.
HAVE YOU EVER FACED A SITUATION WHERE INTERDEPENDENT SEPARATE DEPARTMENTS DO NOT COMMUNICATE?
Example: the team that monitors the machine condition is one and the team that executes the intervention is another. If the communication is bad or there is no confidence in the work of the first, preventive intervention will be done, even if unnecessary.
2. LEADERSHIP ABILITY
Leading by example is the best way to demonstrate this ability. Managers must be self-motivated, organized, trustworthy, empathetic and optimistic. They need to have a clear vision of where they want to go, what goals they want to achieve with their team and inspire others to follow their example.
A capable leader develops the people around them. Each individual has natural abilities and aspirations about their development. Therefore, it is up to the leader to get to know the members of their team and what moves them.
Also, to gain knowledge of their skills and needs for improving or developing new skills, motivations and, subsequently, to extract the best of them. This results in the benefit of the projects to be executed and the collaborator itself.
A leader is not afraid to have better people than him on the team. They may take on new responsibilities inside or outside the team. That is why continuous training and sharing of best practices among employees to carry out high-quality work and productivity is important.
A capable leader promotes teamwork and collaboration. For example, from what was discussed in item 1, Interpersonal skills, it is clear that the available resources can be wasted if there is no understanding of the role of each team and from it the promotion of collaboration between these interdependent teams.
3.ABILITY TO SOLVE PROBLEMS
The ability to solve problems, in addition to knowledge, comes from critical thinking, which is defined by the ability to judge situations clearly and rationally. This ability helps you make fast and assertive decisions and systematically solve problems.
A manager with accurate critical thinking will check all the evidence, interpret available data and evaluate possible alternatives, prioritize and form a judgment that provides the most effective solution in the shortest time possible.
Maintenance managers need to handle multiple responsibilities, including maintenance budget management, supervision of technical teams, prioritization of work as needed, monitoring of maintenance metrics, as well as keeping updated on technological innovations of the sector as an aid improvement.
4. ABILITY TO MANAGE YOUR TIME
Managing time is the process of organizing and planning how much of the available time is spent on each activity to produce the highest value for the organization. It's working more efficiently, not just working harder.
IS BEING INTERRUPTED AND PULLED IN DIFFERENT DIRECTIONS AND BY CONFLICTING DEMANDS PART OF YOUR DAILY ROUTINE?
This can make it even harder to manage the workday. The maintenance manager, even amid the day-to-day maelstrom, must define the priority order for executing tasks, based on the results they generate.
Setting aside a few minutes at the start of the day to plan activities is a requirement for good time management.
Concluding meetings on scheduled time, making use of internal technology and systems tools that help you schedule and prioritize activities, and leave the phone to the most urgent issues are good time management practices. Time management is easy to learn and can be improved at any time.
5. KNOW HOW TO ADAPT TO NEW SITUATIONS OR CIRCUMSTANCES
Change is inevitable! Just look around to see how fast the circumstances change.
Machines, equipment, and systems become increasingly complex; health and safety on the shop floor are top priority issues, which is great because risks at work are less and less tolerated; there is the quest for greater energy efficiency for machinery and production processes and mobile apps are used for almost everything.
The modern maintenance manager must have the ability to adapt quickly to these scenario changes. The most adaptable people respond positively when their routine changes. The maintenance manager must be willing to embrace new ideas, new ways of working and new technologies. They must thrive in a changing environment and uncertainty.
6. ABILITY TO COPE WITH STRESS
Stress can affect productivity, emotions, quality of work, physical and mental health. The accumulation of stress over time consumes the individual, whether in professional or personal aspects.
As a maintenance manager, having the ability to cope with stress may not be an obstacle in the most restrictive way, but it can mean a difference between success and failure of projects.
Managing to cope with stress does not mean taking a deep breath and moving forward. Rather, it means controlling the controllable situations around you and thus reducing stress. Having an ability to control the pressure and maintaining a good mood and positively affect those around you.
Master the skills if your goal is to become a maintenance and engineering team manager. If you are already in a management role, develop and perfect these skills, even more, to get the most out of your team, being well-judged by your direction and gaining more career development opportunities.
Many of the skills mentioned are natural to some people, others not so much. Some of them overlap others, so perfecting one will impact others. It is important to keep improving.
Mastering these skills will help to create a healthy environment where employees will be motivated to do their best, to take on more responsibilities and new challenges.