Mine avoids 30,000 tons of ore loss using DynaPredict
July 26, 2021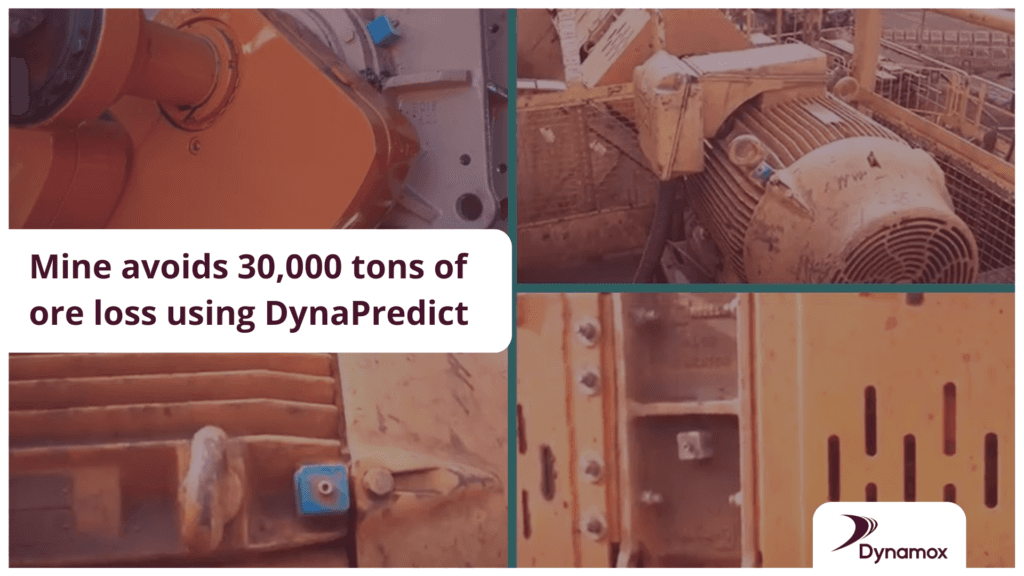 The daily routine of the maintenance team at the Fazendão Mine presented some difficulties and even risks for the employees in the field.
The data collection was done manually and biweekly, requiring an analyst to go to the site of the machine for collection and subsequent analysis.
In addition, the great distance between the mines and the traffic in restricted areas presented a risk to the physical integrity of the employees and service time.
Vale sought solutions that would help the predictive maintenance team to improve the asset monitoring processes and Dynamox was the company chosen, through the DynaPredict Solution.
The use of DynaLoggers wireless vibration and temperature sensors in the mine's machinery resulted in a considerable gain in production, reliability and availability of the assets.
Sensors were installed on all equipment (conveyor belts, vibrating screen, vibrating feeders, crushers, belt feeders, etc.) and their respective subassemblies (motors, gearboxes, conveyor bearings, crusher jaw bearings).
Vale also opted for the acquisition of gateways that, in direct communication with the sensors, perform automated data collection.
In addition, an automated detection system was developed together with Vale, in which it is possible to verify the data generated by the sensors in the DynaPredict Web Platform, with the implementation of machine learning to identify faults. Through technical reports, the results appear with the status and type of anomaly detected on customized dashboards, with an easy-to-understand interface.
According to Vale Company estimates, the use of the solution in the day-to-day work of the maintenance team prevented losses estimated at 30 thousand tons in the mining circuit, corresponding to R $3,438,000.00. With the implementation of the remote monitoring and automated detection system, the safety risks to employees were considerably reduced. Without the need to travel to monitor the condition of the equipment, the time of each analyst was optimized, with a gain of 12.8 HH per month.
Fault identification
Many faults were detected through the detection and prognostics system. With the data collected from the sensors by the gateways and centralized in the cloud, decision making becomes more accurate. An example of a failure was on the conveyor belt equipment, located on the LE bearing of the drive drum. In the dashboard, the diagnosis evolved from "tracking" to "critical". Using machine learning, the system identified that the fault was clearance in the component.
From this report, the equipment is able to intervene and replace the bearing showing spin marks on the inner race on the adapter sleeve, thus confirming the assertiveness of the automated detection.
The results provided eliminated the need for point-to-point analysis in the plant and also prevented several catastrophic failures in the mine.
See other Dynamox success stories on the blog and learn about the benefits of applying the company's products and services to your business.
Source: Vale